7 Steps to Make Stuff the Linchpin Way
August 14, 2010 by: Shari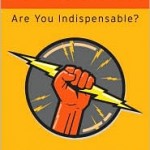 From Linchpin by Seth Godin
Shipping is key. You can't wait for perfection because that cannot be achieved. Here's the method Seth uses to get his books, blog posts, email, speeches done:
1. Write down the due date and post on a wall.
2. Dream: Use index cards, post-it notes [etc.] to write down every single notion, plan, idea, sketch, and contact. [You can even invite people to help you with this step.]
3. On a regular basis, collate the cards and read them aloud [to yourself and/or your team.]
4. File the card information into a database.
5. Go through the database and build a complete description of the project.
6. Get any necessary approvals.
7. Begin work and ship on time.
DONE is the engine of more.
FURTHER READING
The main reason you should attend a Linchpin Meetup
Enjoyed reading this post?
Subscribe to the
RSS feed
or
Email Newsletter
and have all new posts delivered straight to you.