10 Steps Toward Money-Making Content
August 16, 2010 by: Shari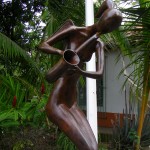 From Webify Your Business by Patrick Schwerdtfeger
"Marketing in the 21st century is all about demonstrating your expertise and providing value before asking for the sale."
What should you give away? What should you charge money for?
1. Pretend you're a teacher.
2. Think about all the lessons you could offer.
3. Create a detailed list of all these lessons.
4. Add to the list any time you think of more.
5. Identify all the beginner lessons (topics).
6. Identify all the intermediate liessons.
7. Identify all the advanced lessons.
8. Split your list into three separate lists.
9. Add new knowledge to the appropriate list.
10. Learn to think along these categories.
These strategies are powerful enough to form the foundation of a highly effective online marketing campaign.
FURTHER READING
Patrick's website: Tactical Execution

You don't have to have perfect SEO to rank #1 on Google

Social Media Victories and How to Win Them

Enjoyed reading this post?
Subscribe to the
RSS feed
or
Email Newsletter
and have all new posts delivered straight to you.