7 Considerations that Lead to a Website Conversation
May 5, 2010 by: Shari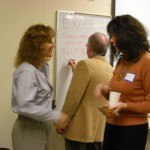 From Webify Your Business by Patrick Schwerdtfeger
Websites are admittedly designed to invite visitors, but traffic is not enough. For an internet site to help build business, there must be some kind of interaction between the company and the visitor — i.e., a website conversation.
Here's a step-by-step action guide:
1. Understand that your website is your Sales Department.
2. Decide what your visitors should learn.
3. Plan the conversation your website has, e.g., the topics for discussions.
4. Qualify your website visitors on each page.
5. Always craft your message to the specific visitor.
6. Build a "path" for your visitors to walk on.
7. Encourage interaction along the way.
"You have complete control over your website. You control what's on the homepage and you control what's on the other pages as well." — Patrick Schwerdtfeger

If you give people what they want on your site, then you help them interact on your site and turn visits into sales.
FURTHER READING:
Patrick's blog on Tactical Execution
Subscribe to Patrick's YouTube channel

Why am I here? All about Positioning Statements
Social Media Victories – and how to win them: Video Blog of Patrick's presentation

Friends become good clients via the social web

Social Media Roadmap – a panel discussion

Enjoyed reading this post?
Subscribe to the
RSS feed
or
Email Newsletter
and have all new posts delivered straight to you.