10 Ways to Get Involved with Social Media
January 28, 2010 by: Shari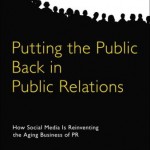 from Putting the Public Back in Public Relations by Brian Solis and Deirdre Breakenridge:
With countless social media platforms and communities to choose from, many companies are so confused they do not know where to start. In their PR 2.0 book, Brian and Deirdre list ten ways to begin participating.
How
to jump onto the Social Media Bandwagon
1. Listen to what your customers and the customers of your competitors are saying.
2. Blog about industry-relevant topics to be part of the conversation.
3. Watch and create online videos.
4. Publicize company updates and customer successes through podcasts.
5. Share relevant web links through social media bookmarking sites like Stumbleupon, Digg, and Delicious.
6. Encourage user-generated content across many platforms.
7. Write social media releases in addition to traditional ones.
8. Build transparent profiles on relevant social media communities like Facebook, Plaxo, LinkedIn, and Twitter.
9. Share images, demos, and behind-the-scenes footage using Flickr, Zoomr, and YouTube.
10. Hire a community manager.
"Brands today must show their human side by participating directly with the people they want to reach in the networks where they're active." — Putting the Public Back in PR
FURTHER READING:
10 Mistakes made by social media newbies
Social Media Victories – Video Blog w/ Patrick Schwerdtfeger

Chris Brogan's advice for getting started in social media
Six ways to build brand loyalty
Community Managers: your guide down Social Media Revolutionary Road

Enjoyed reading this post?
Subscribe to the
RSS feed
or
Email Newsletter
and have all new posts delivered straight to you.