11 Types of Marketing Data to Collect
March 16, 2010 by: Shari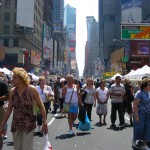 from Engage by Brian Solis
Before framing messages for an audience, companies must conduct preliminary research to uncover the following types of information:
1. Material social networks
2. People linked through common interests that are germane to the business, industry, and marketplace
3. Keywords commonly used by community members
4. Patterns for discovering and sharing information
5. Influence of outside networks and also the effects of existing networks on external communities
6. Influential voices, tiered, and how they form distinct and overlapping connections
7. The personality of networks and the specific communities
8. The nature of threads, memes, and associated sentiment
9. The language of inhabitants
10. The prevailing culture and our potential place within it
11. The tools people use to communicate in and around each network
Through observation, worganizations can find their real customers and those who influence them.
FURTHER READING:
Review of Brian Solis's Engage

Brian's Blog: A New Age for Social Media Marketing

Social media tools are not strategies

Ad agencies can survive if . . .

7 Simple Truths of Social Media Marketing

Enjoyed reading this post?
Subscribe to the
RSS feed
or
Email Newsletter
and have all new posts delivered straight to you.