5 Steps to Engage Your Community
May 8, 2010 by: Shari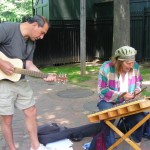 From Trust Agents by Chris Brogan and Julien Smith
How do you build community from a loosely joined group of people? You need to reach into the community and learn; here's how:
1. Listening comes first: Pay attention to where all your publics are interacting.
2. Measure the conversations: Monitor the sentiment as well as numbers.
3. Take small steps: Begin with small memorable exchanges.
4. Lead a new initiative: Becoming a does makes you a real player.
5. Profit: Being inside the right community is a great way to build business, glean insider knowledge, and get an edge on the competition.
With the advances in technology that promotes communication, we have tools that allow us to form online communities to exchange ideas and share experiences. Let's make the most of those opportunities.
FURTHER READING:
Chris Brogan Community and Social Media

Commentary on Chris Brogan's Guide to Managing Online Presence

Social Media Monitoring is Critical to Business Success

Think Big, Start Small: Social Media Strategy Best Practice

Listening Marketing: Hearing Before We See

Enjoyed reading this post?
Subscribe to the
RSS feed
or
Email Newsletter
and have all new posts delivered straight to you.
Comments
2 Responses to "5 Steps to Engage Your Community"