6 Ways to Become a Trust Agent
May 24, 2010 by: Shari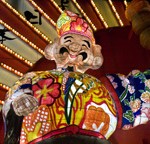 From Trust Agents by Chris Brogan and Julien Smith
"Being a trust agent requires a mix of strategies and skills that also serve other careers as well."
Chris and Julien's popular book Trust Agents is a response to the question "What do I do now?" Six of the chapters concentrate on the basic principles of being a trust agent, i.e., people who understand how to build relationships on the Web and know how to make business happen using this understanding.
The interrelated behaviors for success on the Net
1. Make Your Own Game: Knowing rules, but adapting strategies to move ahead of them allows you to play better than the competition.
2. One of Us: People want to be part of a group, and they like those who are in their group.
3. Archimedes Effect: Leverage means never having to reinvent the wheel.
4. Agent Zero: Businesses are starting to understand the value of having strong connectors on staff.
5. Human Artist: Etiquette and human understanding are the cornerstones of any meaningful life.
6. Build Armies: Leaders aren't simply those who are the best at their jobs; they are best at helping others grow into an effective team.
There are two ways to get to the top of the pile: Push other people down or Raise yourself UP. Chris & Julien show how to take the positive road to achieve success in this new world of business.
FURTHER READING
Chris Brogan's Kitchen Table Talks

8 Tips to get Astounding Results on LinkedIn

Resolve to Manage Your Online Presence

Is Social Media the Answer when Traditional Marketing Sucks?
Beyond the Hype: Social Media Roadmap

Enjoyed reading this post?
Subscribe to the
RSS feed
or
Email Newsletter
and have all new posts delivered straight to you.