8 Apps to Find Twitter Personal Statistics
February 2, 2010 by: Shari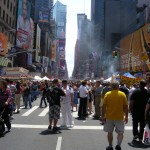 from The New Community Rules: Marketing on the Social Web by Tamar Weinberg:
Twitter continues to grow (1) in popularity and (2) its subsequent value as a marketing tool. To help plan strategies around this microblogging platform, you can gather some helpful statistics regarding influence, reach, and even individual users. Tamar lists these eight applications for finding out personal information relating to Twitter usage.
1.TweetStats (http://www.tweetstats.com) Statistics about number of daily tweets, terms you use on Twitter, when you are most active.
2. TwitterCounter (www.twittercounter.com) Charts your followers and offers predictions.
3. Twitter Grader (http://twitter.grader.com) Measures your authority and reach via many factors including # of followers, updates, etc.
4. twinfluence (http://www.twinfluence.com) Shows the influence of a Twitter user based on the reach of followers.
5. Twitterholic (http://www.twitterholic.com) Gathers statistics over a long period of time and suggests additional users to follow.
6. TweetPsych (http://tweetpsych.com) Builds a psychological profile based on the linguistic analysis of your last 1000 Tweets.
7. Tweetdeck (http://www.tweetdeck.com) Offers multiple columns to track a number of streams at the same time.
8. Tweetie (http://www.atebits.com/tweetie-iphone) Interface combines all messaging, looks up users, and adds geolocation to tweets.
Twitter is a powerful broadcast medium and can help strengthen brands — especially if you find and use the right tools.
FURTHER READING:
The New Community Rules: Marketing on the Social Web
Twitter Blog: Now Trending – Local Trends

Enjoyed reading this post?
Subscribe to the
RSS feed
or
Email Newsletter
and have all new posts delivered straight to you.