8 Signals of Trust on the Internet
May 3, 2010 by: Shari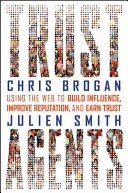 From Trust Agents by Chris Brogan and Julien Smith
Trust is an abstract concept that can be described, but certainly not seen. Building trust on the Internet involves a different set of challenges than in real life. Chris and Julien describe eight signals that show trustworthiness online.
1. Design: Go above and beyond a basic template or people will think you don't take your material seriously.
2. Longevity: Trust is built over time. Of course, in order to be around for a long time, you do need to get started.
3. Volume of productivity: In this case, More is More.
4. Number and quality of comments: If a tree falls in the forest and no one is there, was there a sound?
5. Number and quality of links: Who recommended the site? Do you trust them?
6. Domain name: Think carefully about a memorable name, and get past the beginner's sites with wordpress and blogspot in URL.
7. About  & Photo: People do business with people, not organizations.
8. Be Out There: When people see you active on many online sites, they know you are serious.
In the online space, we are trusting strangers more than ever — and the reasons can be seen by people's online activities.
FURTHER READING:
Social Media Victories and how to win them

Social Media enables companies to become part of recommendation chain

Trust Agents: reviewed by Valeria Maltoni

Enjoyed reading this post?
Subscribe to the
RSS feed
or
Email Newsletter
and have all new posts delivered straight to you.
Comments
2 Responses to "8 Signals of Trust on the Internet"