8 Tips for Maximizing Meetups
May 15, 2010 by: Shari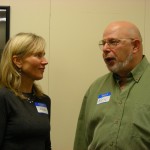 From Trust Agents by Chris Brogan and Julien Smith
Meetups are popular social gatherings usually organized around a particular business topic or hobby or other special interest. There's a meetup.com site where you can learn if there are any events in your area (though many events happen without being facilitated through that site).
Here's how you can do business at meetups
1. You can connect your online presence with face-to-face humans.
2. Before an event, research for information about who will be there.
3. Check Flickr.com for photos of attendees, so you can recognize them when you see them.
4. Check Twitter for mention of organizations of attendees.
5. At the event, find the people you most want to meet — earlier, rather than later.
6. It's not about how many business cards you hand out, but how many useful ones you collect.
7. Be conversational and polite and do not monopolize any one person's time.
8. After the event, send brief notes to people whom you want to build a relationship.
Don't forget that you, too, can start a meetup group to gather together like-minded individuals.
FURTHER READING:
Chris Brogan Nails a Universal Truth

Beyond the Hype: Roadmap for Social Media
Why social media is like a day at the beach

Enjoyed reading this post?
Subscribe to the
RSS feed
or
Email Newsletter
and have all new posts delivered straight to you.