9 Facts Found Using Google Analytics
May 31, 2010 by: Shari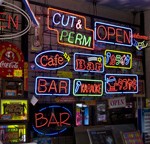 From Webify Your Business by Patrick Schwerdtfeger
The process of measuring online activity is called "website analytics" and everything on the Internet can be tracked — mostly at no cost. Installing Google Analytics  is simple and free; once installed, you can find loads of information like these nine sets of facts:
1. How many people are visiting your website.
2. The keywords they used to find you on search engines.
3. Which website referred them to you.
4. What page they saw first.
5. How much time they spent on your site.
6. How many pages they visited.
7. What page they left your site from.
8. The geographic location of your visitors.
9. The browser used by blog readers.
In the past, you would've had to do surveys or focus groups to gain insights on these topics. Now you can see it all on the Net.
FURTHER READING
Growth Marketing Strategies for Small Business – Patrick Schwertfeger
Social Media Monitoring – Critical for Business Success
What's the ROI on Blog Comments
Enjoyed reading this post?
Subscribe to the
RSS feed
or
Email Newsletter
and have all new posts delivered straight to you.