9 Steps to Conduct & Benefit from Online Conversations
February 9, 2010 by: Shari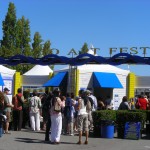 from Putting the Public Back in Public Relations by Brian Solis and Dierdre Breakenridge:
Web 2.0 is noteworthy for the evolution of interactivity, i.e., from static web pages and push marketing to dynamic online conversation and pull marketing. Brands are being discussed all over the Net whether companies are engaging in them or not. The accepted wisdom is that organizations must join the conversation, and PR 2.0 is all about how to do that. Brian, who coined the term PR 2.0, listed a nine-step conversation workflow process:
How to Make the Most of the Online Conversation
1. Observe communities in target networks.
2. Listen to discover important conversations regarding your brand.
3. Identify key networks based on frequency and location of conversations.
4. Internalize and learn from feedback and dialogue.
5. Route: find a way to bring information inside your organization to the appropriate people.
6. Process: determine how information can improve products and implement change.
7. Participate with your customers and stakeholders inside and outside of your organization.
8. Provide feedback and insight by monitoring online discussions and position organization as a helpful resource.
9. Repeat because the process is an ongoing cycle.
Those companies that listen, learn, engage, and respond will reap rewards over time that could not be earned in any other way.
Further Reading:
Putting the Public Back in Public Relations
Listening: The first rule to business success
When communication adds up to a big fat zero
No apologies from this Social Media Evangelist
10 ways to build online communities

Enjoyed reading this post?
Subscribe to the
RSS feed
or
Email Newsletter
and have all new posts delivered straight to you.
Comments
2 Responses to "9 Steps to Conduct & Benefit from Online Conversations"