9+ Ways to Define "Social Media"
March 29, 2010 by: Shari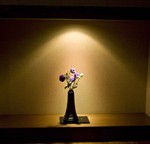 From Engage by Brian Solis
Social Media is all about building communities and building bridges that connect customers, prospects, peers, tastemakers, and influencers with the people who represent organizations. Social media is many things to many people, but here are nine ways to define social media:
1. A platform for the socialization of media.
2. The online tools that facilitate conversation.
3. Connections between friends, peers, and influencers.
4. Collaborations.
5. The redistribution of influence.
6. A call for humanizing personals and audiences, and the stories that link them together.
7. Compassionate.
8. Words, pictures, video, chatter, audio, and also experiences, observations, opinions, news, and insights.
9. An opportunity and a privilege.
PLUS a short definition: "Social media is any tool or service that uses the Internet to facilitate conversations"
AND a long one: "Social media is the democratization of information, transforming people from content readers into publishers. It is the shift from a broadcast mechanism, one-to-many, to a many-to-many model, rooted in conversations between authors, people, and peers.
FURTHER READING:
How Many of These Social Media Questions Can You Answer?

Why I Love Yoga and Social Media

How Social Media is Changing the Culture of Business

Enjoyed reading this post?
Subscribe to the
RSS feed
or
Email Newsletter
and have all new posts delivered straight to you.