9 Ways to "Go" to a Blog Carnival
June 13, 2010 by: Shari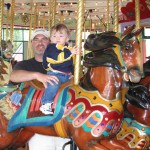 From Webify Your Business by Patrick Schwerdtfeger
Blog Carnivals represent an active ongoing conversation in the blogosphere, a conversation that will bring more external links to your blog. A Carnival is like a magazine, except that it's online. Certain bloggers host Carnivals about one topic and anyone can submit his or her  blog for consideration.
Here is your Carnival Action Guide
1. Visit BlogCarnival.com
2. Search the upcoming carnival listings.
3. Find appropriate carnivals for your posts.
4. Create an account for yourself.
5. Submit recent posts with a description.
6. Consider hosting your own blog carnival.
7. Click "Organize new carnival."
8. Schedule a new edition for your carnival.
9. Watch the submissions come in.
This platform allows those hosting Carnivals and those contributing to Carnivals to connect with each other. All upcoming Carnivals are listed and categorized. You can submit directly to host.
FURTHER READING
Enjoyed reading this post?
Subscribe to the
RSS feed
or
Email Newsletter
and have all new posts delivered straight to you.